OFFICE HOURS
M: 8:30 a.m. - 5:00 p.m.
T: 9:30 a.m. - 6:30 p.m.
W: 11:30 a.m. - 7:30 p.m.
T: 9:30 a.m. - 6:30 p.m.
F: By Appt. Only
OUR LOCATION
1017 Wilson Avenue
Suite 203
Toronto, ON M3K 1Z1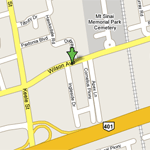 CLICK TO VIEW A MAP
"ZOOM!®" Your Way to a Whiter Smile!
Do you want your teeth whiter right now, or over a few nights while you sleep? Whichever you prefer, we'll ensure that you receive the results you're looking for with our safe and effective ZOOM!® teeth whitening system.
Our new ZOOM!® In-Office Whitening System is ideal for anyone who wants immediate results, as it can whiten your teeth up to eight shades in a little over an hour while you relax at our office. Or, if you prefer to conduct your whitening program over a few days at home, ask us about the ZOOM!® Take-Home Whitening System, which uses a revolutionary patent-pending gel to whiten your teeth an average of six shades in three nights. That means that if you start on Friday, you can greet Monday morning with a bright new smile!
Teeth whitening has become one of the most requested procedures in our office, probably due in part to the changes our patients witness on the popular TV show, Extreme Makeover. Most dental professionals would agree that dentist-supervised whitening is the safest cosmetic dental procedure available, and we do everything we can in our office to ensure that your teeth whitening experience is not only safe, but also comfortable and stress-free.
Whether your teeth are discolored due to the cumulative effects of coffee, tea, colas, wine, staining fruit, smoking or just simple aging, ZOOM!® will bring a bright, youthful smile back to your face in record time.
To learn more about ZOOM!® visit www.zoomnow.com.